Luis entrusted us with the task of crafting an exterior view that would prominently feature the front of a building, one of the projects undertaken by his esteemed firm, Heritage Home Builders. In alignment with the characteristic style of Heritage Home Builders, the render demanded a palette characterized by neutral tones and the inclusion of natural greens to provide depth through elevations.
Our journey commenced with the provision of 2D floor plans and elevations by the Heritage Home Builders team. Subsequently, our talented artist embarked on the precise recreation of the real estate entity using professional 3D software, thereby gaining an intricate understanding of its geometric nuances. By delving into the meticulous detailing of materials, light, and the ambient surroundings, we brought this vision to life.
1. Detailed Plans and Elevations
We were furnished with comprehensive 2D floor plans and elevations, meticulously detailing the apartment's spatial proportions, furniture and appliance placement, as well as structural dimensions and material specifications.
2. Monochromatic Excellence
Following this, our artist opted to showcase the images in grayscale, offering Luis the opportunity to appreciate the geometry and select the most favorable perspectives, all in stunning FullHD resolution.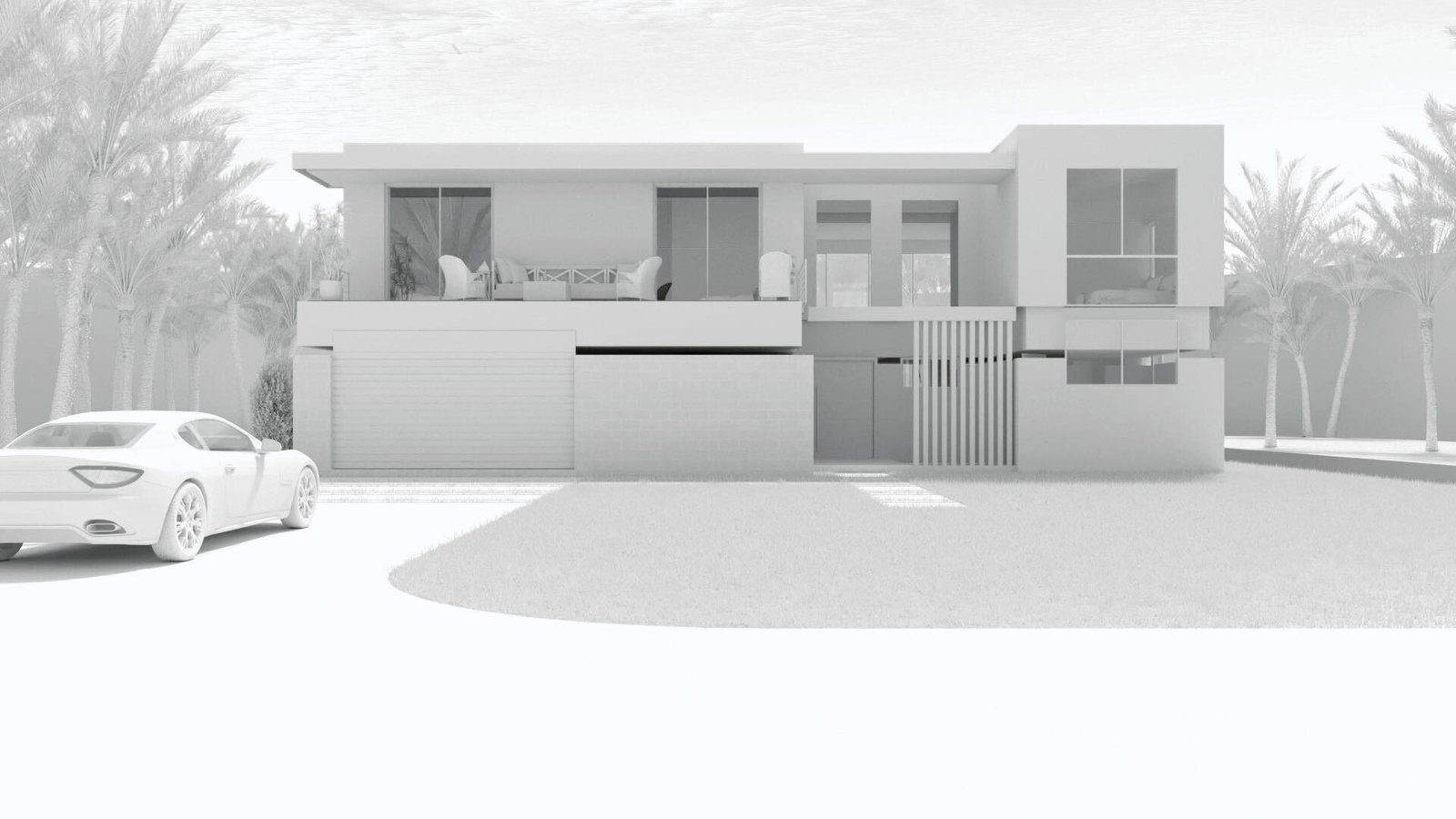 3. Refinement and Revisions
Subsequently, our team diligently incorporated materials and textures in accordance with Luis's specifications, maintaining the exceptional quality standards our company is renowned for. This phase also entailed a meticulous review of all the requirements set forth by Luis, cross-referenced with the provided data.
During this process, several adjustments were made to ensure precision. These included enhancing the brightness of the sky, fine-tuning window heights, updating exterior landscape textures such as gravel, and rectifying the garage height to align with the client's requested changes. Our commitment to perfection was unwavering throughout this phase.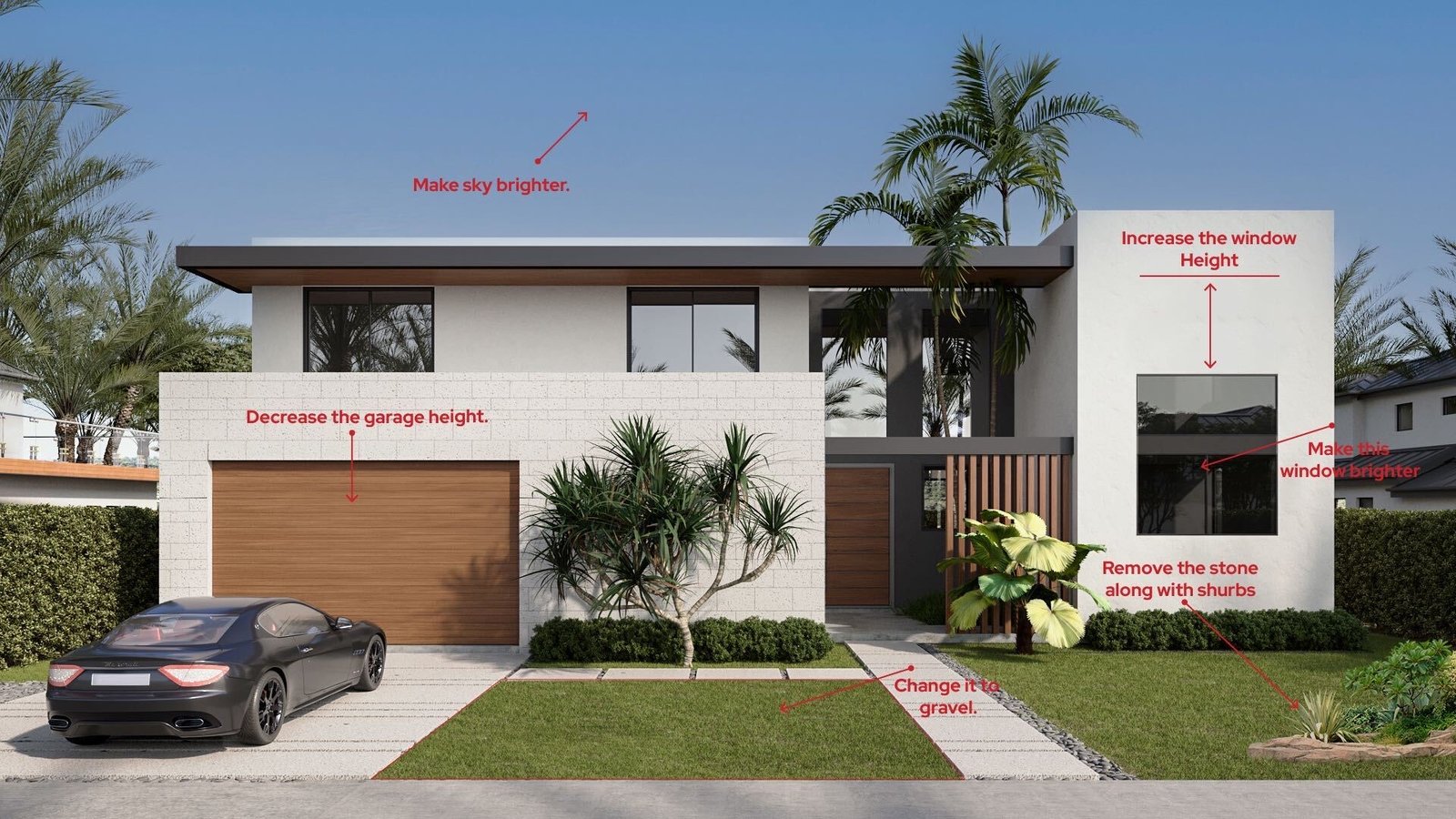 4. Culmination: The Final Render
In the ultimate phase of our creative process, we meticulously integrated all the prescribed modifications and enhancements. The culmination of our efforts resulted in the production of a pristine final render, boasting a resplendent FullHD resolution. With post-production refinements applied, this rendering was meticulously scrutinized, signifying its readiness for presentation to Luis as the definitive culmination of our collaborative vision.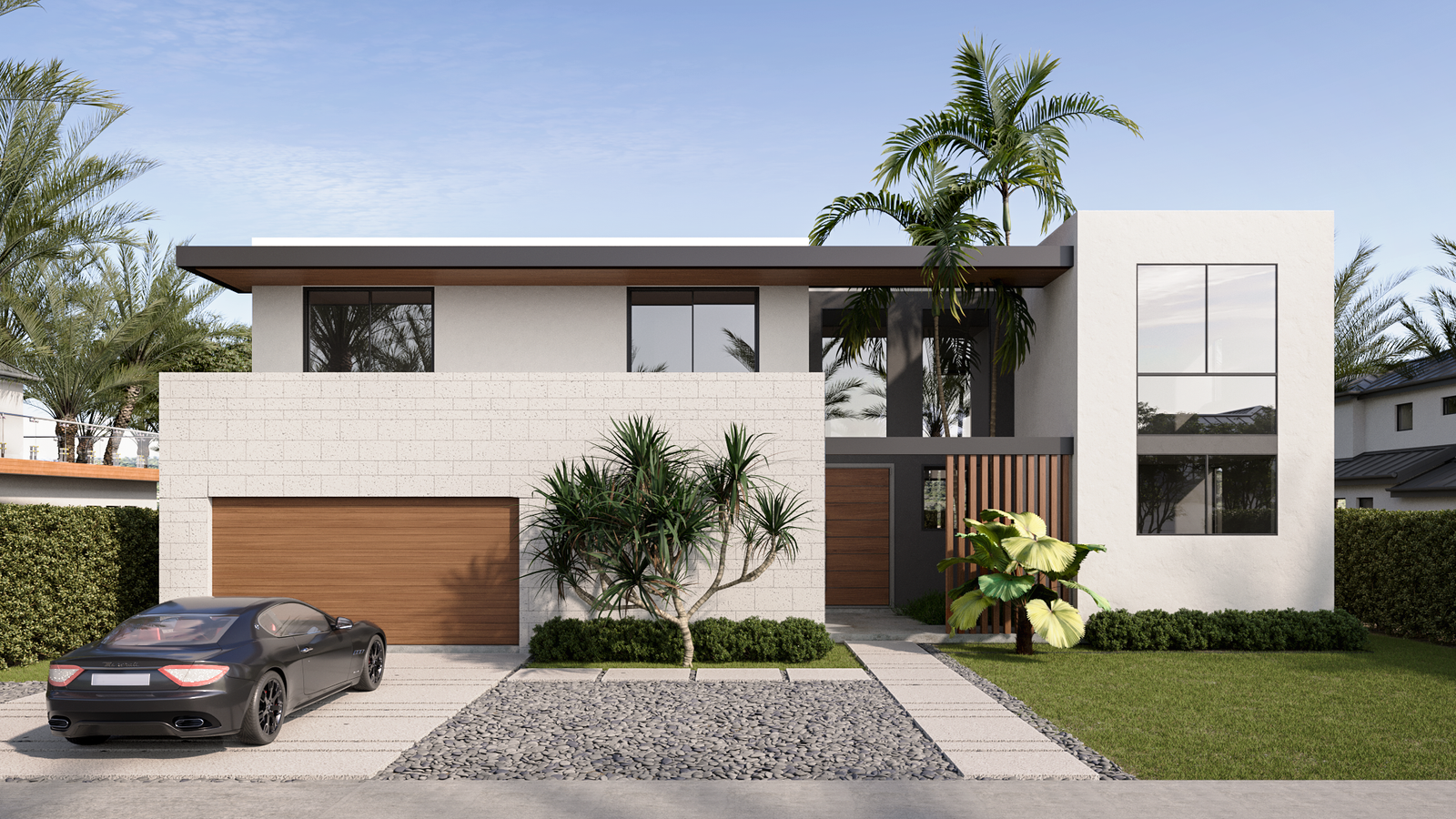 Our unwavering dedication to precision and creative excellence enabled us to craft a breathtaking front facade elevational view that perfectly aligned with Luis's vision. We take immense pride in our ability to transform concepts into captivating and immersive visual experiences.